Tier On Tier Shutters London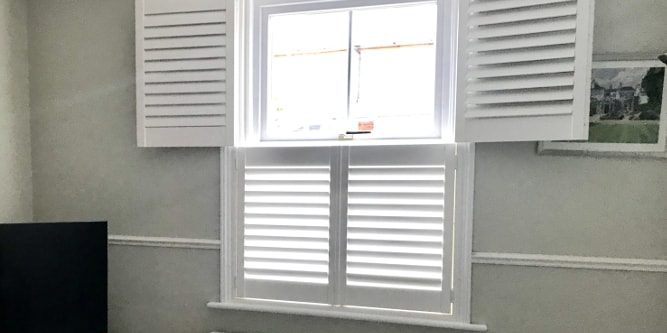 Experience maximum control over the natural light in your London home.
Shutters That Offer Complete Privacy & Versatility
Escape the world for a while with brilliantly designed tier on tier shutters. Gain complete control over the natural light with top and bottom panels that open independently of each other. Here at Beaumont Shutters & Blinds, our tier on tier shutters are an ideal solution for those looking for a little extra privacy and versatility of light in their London home.
How Our Tier On Tier Shutters Work
Our tier on tier shutters offer you the best of both worlds with two levels of door – one on top of each other. As both levels are connected, they can open and close completely independently of one another, which allows you maximum freedom to control the natural light however you like.
Experience impressive features such as increased flexibility from your shutters, as well as many other options such as – being able to fully open or leave the top half open, or close the bottom half and then tilting the slats for privacy. Plus, you could also close both tiers across the window and tilt the Louvers for maximum privacy or as a way of providing shading from the sun. Adjust the light according to your exact preferences and be able to set the perfect mood for any room – the possibilities are endless.
Shutter Materials, Add-Ons & Colours
Looking for the ideal shutter colour and design to fit the style of your home interior? Our tier on tier shutters can be manufactured from any one of our high-quality Shutter Materials. Wooden shutters are the best for this particular style as they are lighter, and can also have concealed hinges or as some people might say hidden hinges. 
Another wonderful reason to have wooden hinges in your home is due to our vast colour range that you can choose from. Select your perfect colour and style from our 28 paints and 20 stains, or enjoy our custom colour service for all your wooden tier on tier shutter needs.
Would You Like To Learn More?
If you would like further information on our tier on tier shutters for your London home, then please feel free to contact us today. We are always happy to help answer any questions you may have.