Plantation Shutters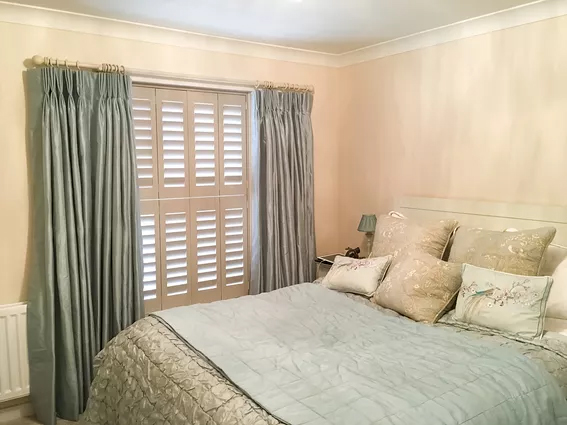 Plantation shutters are one of the most popular window covering option – and for good reason. Made from sustainably sourced, luxurious basswood or MDF and ABS plantation shutters are fully customisable to suit every room and every window in your home and can provide decades of hassle-free beauty when professionally installed and well maintained.
How Are Plantation Shutters Different From Blinds?
Plantation shutters have extra wide louvers – 63mm up to 114mm wide – and are permanently installed on the inside of your window frame. Like blinds, the louver blades can be adjusted to block or filter light, or close and overlap entirely for total privacy. Shutters can be installed to open via hinge, bi-fold or slide, making them practical for small windows, wall-to-wall windows, and even over glass patio doors.
Perhaps the biggest advantage of shutters over blinds is their energy efficiency. The thick wood louver blades and shutter case effectively insulates your windows against heat and cold, improving energy costs for years to come. With no cords, this product boasts child safety.
The one downside to shutters is that they are bulky. Even though you have three options to completely open the shutters to expose the window, the shutters still have to "go" somewhere, and you won't have the clean look that roller shades and venetian blinds provide when they are fully lifted. Even still, the elegant and bold look that shutters provide, combined with their durability and energy efficiency, make them the most popular choice for window coverings year after year.
Real Basswood Plantation Shutters
Real basswood shutters are sourced from sustainable growth forests and treated with paint and stain products that ensure longevity. They can be stained in classic timber tones or painted a variety of neutral colours such as white, off-white, cream or eggshell. For painted shutters, five coats of a two-part polyurethane paint are used to prevent fading, warping or peeling. Basswood plantation shutters work well in living and dining areas as well as bedrooms, nurseries, and studies.
ABS Plantation Shutters
For the look of wood plantation shutters for less, and for use in wet areas like bathrooms, kitchens, and laundries, ABS shutters made of a PVC component and are an excellent alternative to real wood. Also called composite shutters, ABS plantation shutters come in five different neutral finishes, but do not have the same wood grain look as real wood.
MDF Plantation Shutters
Like the ABS Shutters MDF Shutters are designed to achieve the same look as Bass Wood and come five shades of white to complement any room. The MDF Shutters are polymer coated to give a hard durable finish making them great in hard traffic areas of the home and great with kids as they can take the knocks. MDF has become one of the most popular shutter materials due to they are robust and the most cost affective.
All types of shutters come in louver widths of 63mm, 76mm,89mm or 114mm, and can be installed with a deep plain or decorative frame to complement your home's architectural style. The beauty of plantation shutters is they are totally customizable and can even be installed on arched and round windows with ease.
Schedule Your Free In-Home Consultation With Beaumont!
If you're considering plantation shutters for Farnborough or other local areas schedule your free consultation with Beaumont today. We custom manufacture your plantation shutters and expertly install them for years of beauty backed by our Beaumont Warranty lasting 5 years.