Best Of House 2017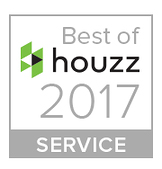 Beaumont Shutters and Blinds Awarded 'Best of Service'
From Houzz.com, The Leading Website & Online Community about architecture, interior design, decorating and home improvement
Beaumont Shutters and Blinds Ltd of Farnborough has won a "Best of Service Award" on Houzz, the leading platform for home renovation and design. Beaumont Shutters was started in 2015 by David Armour and has since become of the leading shutter suppliers in the Farnham, Farnborough, Guildford, Camberley area and Hampshire. Houzz.com gets more than 40 million monthly unique users and has a very active online community. This includes than one million active home building, home improvement and design industry professionals. For Beaumont Shutters and Blinds to win an award is a real achievement and very Prestigious.
The Best Of Houzz is awarded annually in three categories:
Design
Customer Service
Photography
Design award winners' work was the most popular among the more than 40 million monthly users on Houzz. The Customer Service honours are based on several factors, including the number and quality of client reviews a professional received in 2016. Architecture and interior design photographers whose images were most popular are recognised with a Photography award.
A "Best Of Houzz 2017" badge will appear on winners' profiles on the Houzz website. This is a sign of our commitment to excellence. These badges help homeowners identify popular and top-rated home professionals on Houzz.
Beaumont Shutters and Blinds Was Quoted as Saying
"All of us here at Beaumont Shutters are so pleased to receive this award and we thank everyone for supporting us since our company first started.
We have worked hard to bring Plantation Shutters at affordable pricing and now to see so many people have voted is us makes us feel very proud. We will continue to improve our service all the time."
Andrew Small, Managing Director of Houzz UK and Ireland Said of The Award
"We're so pleased to award the #BestOfHouzz 2017 winners. This is an incredible group of talented and customer-focused professionals, including Beaumont Shutters and Blinds. Each of these businesses was singled out for recognition by our community of homeowners and design enthusiasts for helping to turn their home improvement dreams into reality."
Follow Beaumont Shutters and Blinds Ltd on Houzz https://www.houzz.co.uk/pro/david-armour69/__public